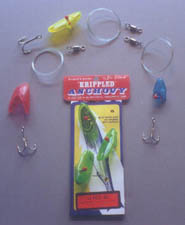 'KRIPPLED' baitfish rigs were designed specifically for salmon and trout but will attract any game fish that feeds on live bait.
The spiral rolling action of the lure can be tailored simply by modifying the curve in the bait.
Our lures come in three different styles and different sizes for baitfish ranging from 3 - 10 inches, and are available in six different colours (clear, chartreuse, green, glow, red, and blue).
'KRIPPLED' baitfish rigs can be ordered fully rigged with treble or single hooks ready to use, or can be purchased in 'U-RIG-M' packs for the fisherman who prefers to tie his own lures. All packages come with complete illustrated rigging and fishing instructions.
Before you can expect to land the big one, you may want to visit our tip pages for more information on baitfish, and salmon fishing.